Winemaker's Reds Case Collection - 12 bottles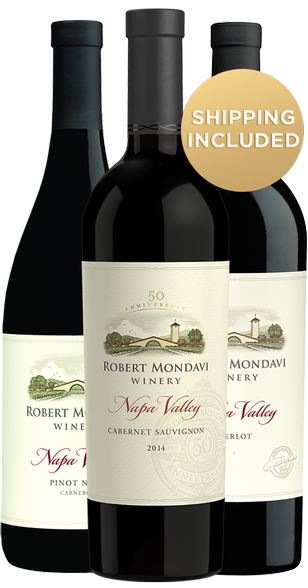 Temporarily out of stock. This set will ship on December 12th.
The Winemaker's Reds Case Collection includes 4 bottles of each:
2014 Robert Mondavi Winery Cabernet Sauvignon Napa Valley
Dark fruits of black cherry, plum and blackberry are layered seamlessly with sweet spice, herbal, dark earth and a touch of sweet tobacco, with silky tannins and long finish.

2013 Robert Mondavi Winery Merlot Napa Valley
Deep black plum, cassis, violet, fresh dark earth and herb flavors flow seamlessly on a silky palate to a deliciously long, velvety finish.

2012 Robert Mondavi Winery Pinot Noir Carneros
A lovely cascade of aromas: sweet plums and juicy berries, infused with brown sugar, turned earth and warm, exotic spices translates gracefully to the palate. The rich flavors and plush texture are balanced by freshness and cool minerality. Lovely, silken texture with a long, berry and spice finish.