Signature Collection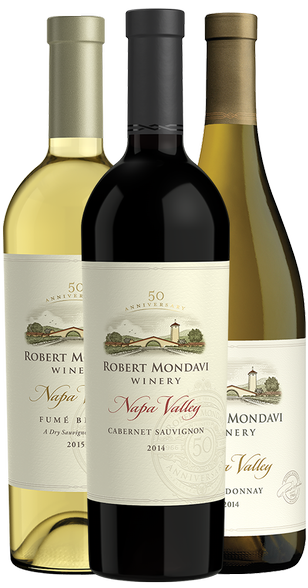 The Signature Collection includes one bottle of each:
2015 Robert Mondavi Winery Fumé Blanc Napa Valley
Lemon crème, vine-ripened white peach and guava are joined by a subtle yet intriguing hint of ginger on a creamy wave of flavor.

2014 Robert Mondavi Winery Cabernet Sauvignon Napa Valley
Dark fruits of black cherry, plum and blackberry are layered seamlessly with sweet spice, herbal, dark earth and a touch of sweet tobacco, with silky tannins and long finish.

2014 Robert Mondavi Winery Chardonnay Napa Valley
Ripe Asian pear, autumn quince and white melon fruit mingle beautifully with toasty hazelnuts and a hint of ginger spice in this classic Napa Valley Chardonnay.