Holiday Reds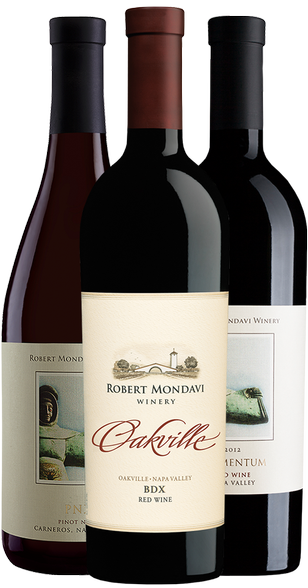 The Holiday Reds features 1 bottle of each:
2014 Robert Mondavi Winery PNX Pinot Noir Carneros
Rich and delicious black plum fruit, wild violets, spice and a sensual smokiness.

2013 Robert Mondavi Winery BDX Red Blend Oakville Napa Valley
Not produced every vintage, this special wine has deep, blackberry fruit with savory and white sage flavors balanced by sweet oak spices.

2012 Robert Mondavi Winery Momentum Red Blend Napa Valley
Red and black wild cherry and blackberry fruit, mocha, milk chocolate, vanilla bean, and tobacco aromas, and a full-flavored finish.
Product Reviews
Roberta Gabor
(Dec 3, 2015 at 9:14 AM)
this really is an excellent wine. It would be my first choice.
darrell graddy
(Dec 5, 2016 at 5:37 PM)
The Oakville BDX Red Wine was excellent.
Michael D'Alessio
(Dec 12, 2016 at 4:22 AM)
Great