Dessert Duo Gift Set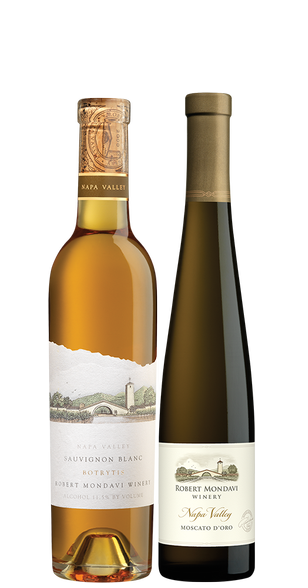 The Dessert Duo Gift Set contains one bottle of each:
2002 Robert Mondavi Winery Sauvignon Blanc Late Harvest Botrytis 375mL
This special wine celebrates the decadence of botrytis (noble rot), and the deliciously complex orange marmalade, honey and marzipan flavors that it creates. Together with caramelized red apples, nuts, brown sugar, nougat, buttery crust, and a lively orange zest, this is one of our most luxurious sweet wines.

2015 Robert Mondavi Winery Moscato d'Oro Napa Valley 375mL
Exotically perfumed nectarines, wild peaches, white blossoms and honey lead to a delightfully refreshing palate on our sweet Moscato d'Oro wine. Named after the Italian word for the Muscat grape and gold (Oro), this is a youthful expression of a variety with ancient roots in the gloriously sun-splashed islands of Greece.
Product Reviews
allicia nadeau
(Apr 7, 2016 at 12:50 PM)
my sister had turned me on to moscato when she was here on a visit from texas when they left I told my husband to go to liquir barn here in Louisville Kentucky on fern valley rd. and pick me out a moscato he came home with ck Mondovi moscato and now I wont drink anything else hands down my most favorite wine I have ever tried im drinking it right now as im writing this I also love the chardonnay but hands down my moscato I thank my hubby for picking this after all he doesn't know wine he just picked blindly but congrats to him thank u mrs allicia nadeau